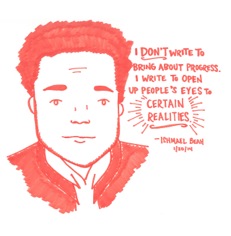 Ishmael Beah, born in Sierra Leone, West Africa, is the New York Times bestselling author of A Long Way Gone, Memoirs of a Boy Soldier and Radiance of Tomorrow, A Novel.
His newest work, Little Family, a novel, is a profound and tender portrayal of the connections we forge to survive the fate we're dealt, Little Family marks the further blossoming of a unique global voice.
He's also UNICEF's first Advocate for Children Affected by War.
Little Family
28 April 2020
A powerful novel about five young people, struggling to replace the homes they have lost with the one they have created together, from the internationally bestselling author of A Long Way Gone.
Hidden away from a harsh and chaotic outside world, five young people have cobbled together a home for themselves in an abandoned airplane, a relic of their country's tumult. At seventeen, Elimane, the bookworm, is as street-smart as he is wise: the group's father figure. Clever Khoudimata is mother by default, helping scheme how to keep the younger boys-athletic, pragmatic Ndevui and thoughtful Kpindi-and especially little Namsa, their newest and youngest member-safe and fed…
RT  @PriscilliaK : Harriet Tubman did say she'd have freed more slaves if they'd known they're enslaved. Let that sink in Folks still won… 4 days ago